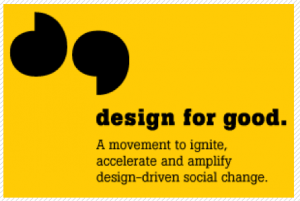 It is the nature of the Educator to want to help, to make a difference. On the heels of the October 2012 conference Gain: AIGA Design for Social Value, come a few thoughts on how we, as educators, can bring 'Design for Good' projects into the classroom. Items in bold are snippets I wrote down while listening to GAIN speakers and speaking with attendees.
As a creative professional, the inherent problem with pro-bono work is that you run out of steam; the project doesn't become a top priority because it is unpaid. Alternately, creative educators working within the university setting have the potential to be the perfect match for a pro-bono project. Instructors are receiving payment for teaching, students' benefit from real-world projects.
The case studies on the 'Design for Good' AIGA site are a resource for inspiration. As we start to add case studies for projects happening in academics, educators will be able to share experiences and examine the 'design for good' work going on in schools across the country.
I'll start with a project I did. While teaching at the School of Visual Arts I developed a course called 'Citizen Designer'. The title was inspired by Steven Heller's book and he gave me the go-ahead to use it. The course description read something like this:
Graphic designers have the power to influence people by designing the products they buy, the magazines they read, what they shop for, and in many more ways than most of us think about. This course will focus on the importance of design citizenship. Finding a cause based on life experiences will be explored. Concept, craft and clarity of communication will be emphasized. Each student will produce designs for a cause that he or she finds socially relevant. Funding and grant opportunities for producing work will also be discussed.
It was offered under 'graphic design' as well as 'professional development' for Continuing Education students. The first time the course ran there were a few kinks. The projects produced were smart and beautiful but were essentially hypothetical non-profit design solutions. By the second time the course ran I had a clearer idea of what might work better. Instead of me assigning the projects, students would settle on their own topics, depending on their life experiences. They would then work together with a real client on the project.
Team members need the right mix of skillsets.
The great happenstance from this class was that the students all came from entirely different backgrounds. One was from Korea and a student in the MFA Interaction Design program. Another was from Mexico City and had design experience from the trenches. The third student had a degree in painting from Cranbrook. Three students from different places, different ages, different disciplines.
First day of class I had students write a list of the ten most important things in their life. Everyone presented their lists, and we cross-referenced them. The issue that everyone's list shared was in the realm of sustainability; 'recycling, global warming, caring for the environment.'
So there was our topic. Now what? Everyone was tasked with researching local non-profits, looking into organizations in their communities and asking friends who they thought might need help. We identified an organization doing amazing work that fit our category. They had no budget for graphic design. We visited their space, took photos, talked to people, met with volunteers.
Then we applied for a Sappi 'Ideas that Matter' grant. The students didn't think we had a chance of winning but figured at least they'd get some experience writing a grant proposal. Well guess what? We got it. $6,000.
Do not walk into a situation and insert a solution. Create solutions through which both sides will benefit. We came up with a visual collection and idea list of things we thought they needed and arrived at our first client meeting. They wanted none of what was on our list. What they needed was a solution that was sustainable, portable, and inexpensive. They didn't want a new logo, didn't need fancy postcards or brochures.
We had six months to finish the project, which extended beyond the length of the course. Because we were all emotionally invested in the subject, we worked to complete the deliverables. In the end the clients were happy, we were happy, and I was happy in that the students gained an experience they never expected.
My favorite takeaway quote from a student was this:
"My first inclination was 'let's make some sexy design, it's free for them'. I thought it would be a vanity project. It ended up being very practical, in the trenches really. It's not about producing an extravagant portfolio piece, but giving the client what they need, and being of service."
For more details on this project visit GD USA.
And, more on 'Design for Good' for Education to follow.