Come join us in New York!!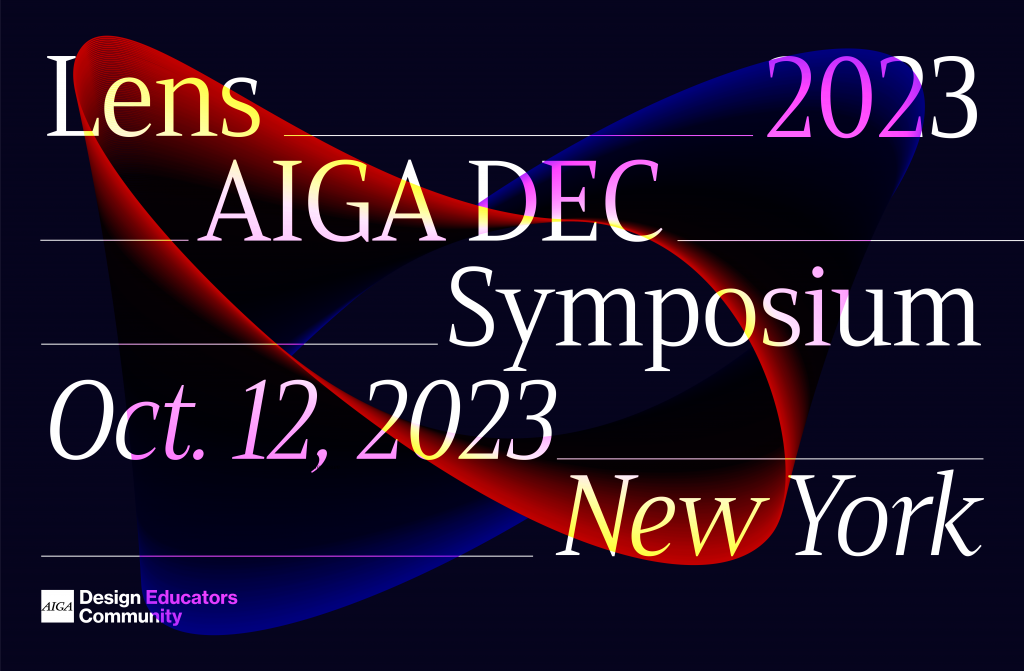 As part of the 2023 AIGA National Conference, The View From Here, to be held in New York City October 12-14, the DEC will host Lens a one-day symposium.
Lens will feature peer-reviewed papers, panels, posters, and other work from educators, graduate students, and industry professionals that address ideas and topics connected to the theme LENS.
Thursday, October 12th, 2023, from 8:00 am – 5:30 pm (EST)

REGISTRATION
Don't forget to add LENS to your conference registration
Lens is a $20 add-on for people already registered to attend the AIGA Design Conference. Attendees should make sure they have added Lens to their conference registration.
The AIGA Design Conference is SOLD OUT and Lens is not currently available as a stand-alone ticket.
Lens attendees need to pick up their badge the evening before at the main conference venue, the Sheraton Times Square Hotel on Wednesday, October 11, between 5 and 8 pm.
More information and registration details can be found on the AIGA.org conference website: https://www.aiga.org/design/design-conferences/aiga-design-conference
LENS
A LENS can focus and direct light, bringing clarity and perspective to otherwise opaque or abstract ideas. This call for proposals solicits work that utilizes this metaphor to explore and reassess the current state of design education in innovative and insightful ways. This context can help to analyze and understand how we see, interpret, and create visual communication from interdisciplinary viewpoints.
LOCATION
venue 1, The New Tishman Auditorium:  University Center, 63 Fifth Ave, Room U100
venue 2, The Auditorium: Alvin Johnson/J.M. Kaplan Hall, 66 West 12th St, room A106
venue 3, Wollman Hall Eugene Lang Building, 65 West 11th St, room B500, 5th floor
SCHEDULE
---
University Center, 63 Fifth Ave, Room U100
8:00 AM  Registration
9:00 AM  Land Acknowledgement
Welcome
Liese Zahabi, Natalie Tyree (co-chairs)
Patricia Childers, Vinicius Lima (conference co-chairs)
9:45 AM   Break
10:00 AM  A Lens on Core Values
Design is Eugenics is Design: Introducing Crip Theory to Design Studies
Kaiya Waerea
Developing Reflective Practitioners: Co-designing a Code of Ethics in the Design Classroom
Victoria Gerson, Shadrick Addy
Social emergence for discursive design
Juan Salamanca
Unveiling Salary Equity: Visualizing Trends in Compensation within Higher Education
MiHyun Kim
11:15 AM  Break
11:30 AM  Panel: Expanding the Design Canon: The State of Black Design and the Lens of Inclusivity.
moderator: George Guerrastegui, Jr.
Omari Souza
Kelly Walters
Jacinda Walker
Terrence Moline
Jillian Harris
Terresa Moses
12:30 AM. Break
12:45 PM  Panel: Expanding the Lens: Non-Traditional Grading Practices for Inclusive Design Education
Rachel Beth Egenhoefer
Curt Lund (he/him)
Zachary Vernon
Shannon Zenner
1:45 PM   LUNCH BREAK
3:30 PM  Grad papers lightening talks: Lens on Design Futures
Reframing the Role of Social Media in the Identity Formation of Youths
Megan Handley

Trans-ition Trans-cendence: 3D interactive web space as a mutable narrative platform
TaeHee Whang
Visual Participatory Design Activities: Empowering Student Voices for Inclusive Education
Hien Phan

Vasudhaiva Kutumbhakm
Anmol Shrivastava
HeLoHe: A Design Solution for Empowering Female Fibromyalgia Patients and Supporters Through Innovative Mobile Health Technology
Roya Movahed
ADS vs ADS
Golnoush Behmanesh
---
Alvin Johnson/J.M. Kaplan Hall, 66 West 12th St, room A106
10:00 AM  A Lens on Expression and Technologies
In Favor of Analog Making: Expanding Design Methods, Embracing Humanness, and Resisting Digital Predictability
Megan Irwin, Dan Elliot, Cat Normoyle
Embracing the Impact of AI on Graphic Design: Preparing Students for the Age of Automation
Chen Wang
Historical Inspiration: Cuneiform as a Design Tool
Setareh Goreishi
A Pedagogical Approach for Introducing and Challenging AI in the Classroom
Mary Y. Yang
11:15 AM   Break
11:30 AM  Panel: The Decoloniality of Self-Expression: perspectives on auto-ethnographic visual discovery
Gaby Hernandez
Ramon Tejada
(Presentation delivered in Spanish)
12:30 PM  Break
12:45 PM  Panel: Design for Emergencies: Preparing Resilient Communities
Clinton Carlson
Rodrigo Ramirez
Claudine Jaenichen
Klaus Kremer
Saski van Manen
1:45 PM   LUNCH BREAK    
4:00 PM   Panel: The View from the Delta: Immersion in Design Education
Samantha Wischmeyer
Beth Dedman
Israel Adeleye
Shalom Yabilsu
Jessica Miles
Sumi Limbu
5:00 PM   Break
5:15 PM    A Lens on Design Literacies
Refocusing Vis Lit within the Frame of Design History, Education & Practice
Warren Lehrer
Expanding Our Design Education Lens: Insights from an Experimental Study of the Subjective Appeal of "Bad" Design
Dr. Shannon Zenner
Learning Multimodal Design Storytelling through a Social Justice Lens
Ellen Christensen, Sana Hussaini

The Design History Reader: An Emerging History
Kristen Coogan
6:15 PM   Break
6:30 PM   Closing Session
Liese Zahabi, Natalie Tyree (co-chairs) 
Patricia Childers, Vinicius Lima (DEC Steering Committee)
---
Eugene Lang Building, 65 West 11th St, room B500, 5th floor
10:00 AM  A Lens on Inclusion
Redefining the American Dream: Addressing immigration and cultural barriers in design education
Amrita Datta, Archana Shekara
Seeing through languages: pedagogical interventions in transcultural and translingual contexts
Xinyi Li
Opening Computational Frontiers: Empowering First-Generation Designers
Travis Masingale
A Lens Toward the Future: Moving the Words of a University Land Acknowledgment Statement into Meaningful Action
Jenn Stucker, Heidi Nees
11:15 AM  Break
11:30 AM  Panel: Making Space for Graphic Designers-as-Visual Essayists

Patricia Childers
Heather Corcoran
Joshua Unikel
Omar Sosa-Tzec
12:30 PM  Break
12:45 PM  Panel: The Emergence of Trauma-Informed Design
Maribeth Kradel-Weitzel
Stephen DiDonato
Wayne Centrone
 1:45 PM   LUNCH BREAK
PANELS
The Decoloniality of Self-Expression: Perspectives on Auto-Ethnographic Visual Discovery
Gaby Hernández, University of Arkansas
Ramón Tejada, Rhode Island School of Design
Design for Emergencies: Preparing Resilient Communities
Clinton Carlson, University of Notre Dame
Rodrigo Ramirez, Pontificia Universidad Católica de Chile
Claudine Jaenichen
Klaus Kremer
Saski van Manen
The Emergence of Trauma-Informed Design
Wayne Centrone, Health Bridges International
Stephen DiDonato, Thomas Jefferson University
Maribeth Kradel-Weitzel, Thomas Jefferson University
Expanding the Design Canon: The State of Black Design and the Lens of Inclusivity
Omari Souza, University of North Texas
George Guerrastegui, Jr. 
Kelly Walters
Jacinda Walker
Terrence Moline
Jillian Harris

Expanding the Lens: Non-Traditional Grading Practices for Inclusive Design Education
Rachel Beth Egenhoefer, University of San Francisco
Curt Lund, Digital + Studio Arts Hamline University
Zachary Vernon, California State University,  Los Angeles
Shannon Zenner, Elon University 
Making Space for Graphic Designers as Visual Essayists
Patricia Childers, Citytech, CUNY
Heather Corcoran, Washington University in St. Louis
Omar Sosa-Tzec, San Francisco State University
Joshua Unikel, University of Houston
The View from the Delta: Immersion in Design Education
Israel Adeleye, University of Arkansas
Beth Dedman, University of Arkansas
Sumi Limbu, University of Arkansas
Jessica Miles, University of Arkansas
Samantha Wischmeyer, University of Arkansas
Shalom Yabilsu, University of Arkansas
SHORT PAPERS
Design is Eugenics is Design: Introducing Crip Theory to Design Studies' 
Kaiya Waerea, University of the Arts London
The Design History Reader: An Emerging History
Kristen Coogan, Boston University
Developing Reflective Practitioners: Co-designing a Code of Ethics in the Design Classroom
Shadrick Addy, The Ohio State University
Victoria Gerson, University of Florida
Embracing the Impact of AI on Graphic Design: Preparing Students for the Age of Automation
Chen Wang, California State University, Fullerton
Expanding Our Design Education Lens: Insights from an Experimental Study of the Subjective Appeal of 'Bad' Design
Dr. Shannon Zenner, Elon University
Learning Multimodal Design Storytelling through a Social Justice Lens
Ellen Christensen, San Francisco State University School of Design
Sana Hussaini, San Francisco State University School of Design
In Favor of Analog Making: Expanding Design Methods, Embracing Humanness, and Resisting Digital Predictability
Megan Irwin, East Carolina University
Dan Elliot
Cat Normoyle
Historical Inspiration: Cuneiform as a Design Tool
Setareh Ghoreishi, Oakland University
A Lens Toward the Future: Moving the Words of a University Land Acknowledgment Statement into Meaningful Action
Heidi Nees, Bowling Green State University
Jenn Stucker, Bowling Green State University
Opening Computational Frontiers: Empowering First-Generation Designers
Travis Masingale, Eastern Washington University
A Pedagogical Approach for Introducing and Challenging AI in the Classroom
Mary Y. Yang, Boston University
Redefining The American Dream: Addressing Immigration and Cultural Barriers In Design Education
Amrita Datta, Indiana University – Herron School of Art and Design
Archana Shekara, Illinois State University
Refocusing Vis Lit within the Frame of Design History, Education & Practice
Warren Lehrer, School of Visual Arts, MFA Design
Seeing Through Languages: Pedagogical Interventions in Transcultural And Translingual Contexts
Xinyi Li, Pratt Institute
Social Emergence for Discursive Design
Juan Salamanca, University of Illinois
Unveiling Salary Equity: Visualizing Trends in Compensation within Higher Education
MiHyun Kim, Texas State University
GRAD PAPERS (lightning talks)
ADS vs ADS
Golnoush Behmanesh, Georgia State University
HeLoHe: A Design Solution for Empowering Female Fibromyalgia Patients and Supporters Through Innovative Mobile Health Technology
Roya Movahed, University of Connecticut
Reframing the Role of Social Media in the Identity Formation of Youths
Megan Handley, Savannah College of Art & Design
Trans-ition Trans-cendence: 3D interactive web space as a mutable narrative platform
Taehee Whang, Virginia Commonwealth University
Vasudhaiva Kutumbhakm
Anmol Shrivastava, Grand Valley State University
Lens Planning Team
Natalie Tyree, DEC Co-Chair
Liese Zahabi, LENS Peer Review Coordinator and DEC Co-Chair
Patricia Childers, LENS Conference Co-Chair
Vinicius Lima, LENS Conference Co-Chair
Vinicius Lima, LENS Branding Designer
Katie Krcmarik, LENS Social Media