Starting in January 2022, this group of 18 design educators have been working individually and collaboratively to discuss and investigate the history and future of an often overlooked communication artifact, the Visual Essay. This format of visually displaying and combining writing and images offers an avenue for designers to conduct and disseminate their research through making practices. The fellowship was organized and facilitated by Rebecca Tegtmeyer and Liese Zahabi. Together, members of this fellowship investigated the origins, influences, and possibilities for this specific format and aim to share their learnings with the greater design community.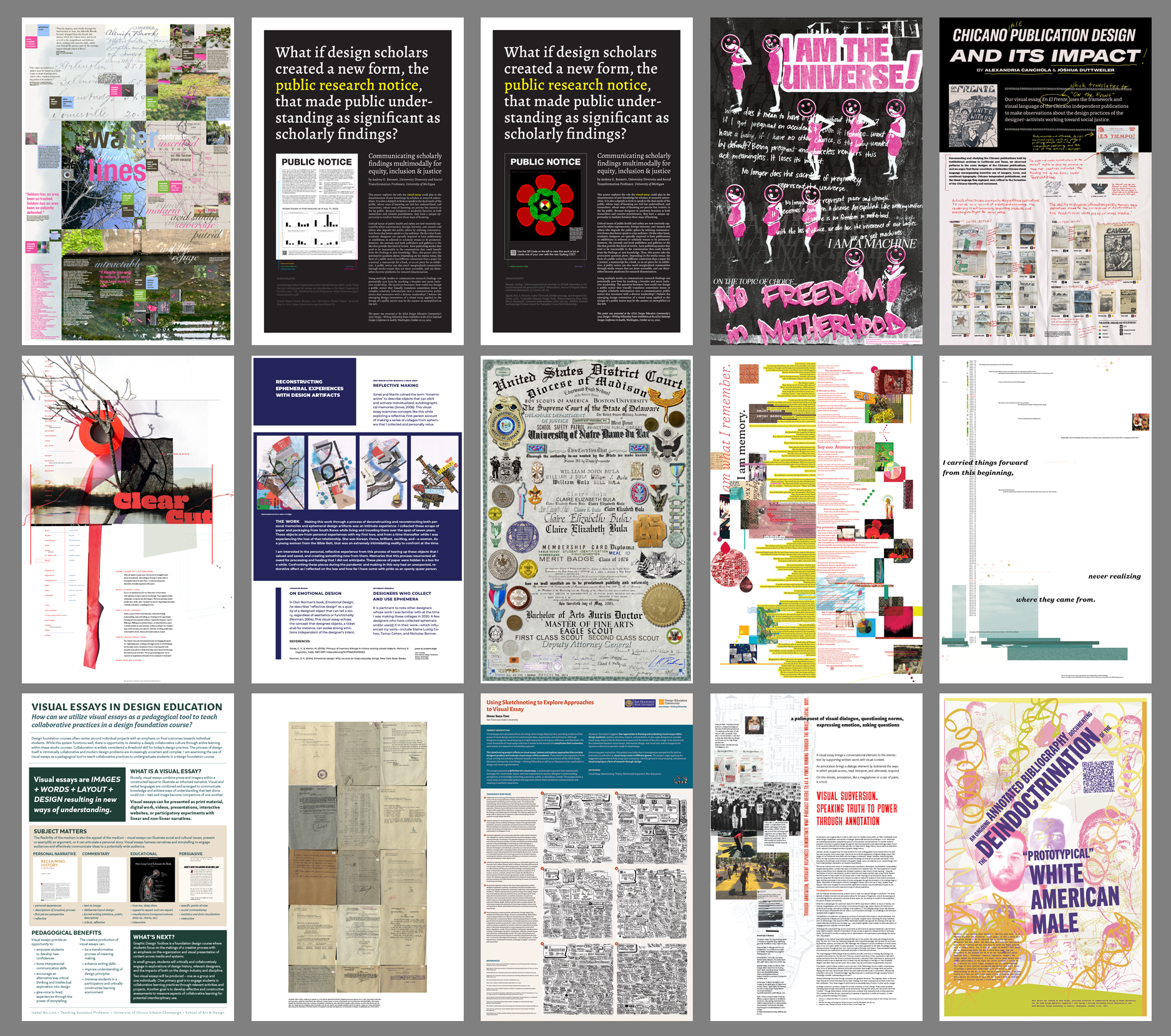 2022 AIGA Design + Writing Fellows….
Cheryl Beckett
Audrey G Bennett
Isabel Bo-Linn
Clare Bula
Alexandria Canchola
Carla Cesare
Patricia Childers
Heather Corcoran
Joshua Duttweiler
Gaby Hernández
Christopher Lynn
Ann McDonald
Bree McMahon
Christina Singer
Kyuha Shim
Omar Sosa-Tzec
Zack Tucker
Joshua Unikel
As part of the AIGA National Design Conference, the fellows designed posters for an exhibition showcasing some of their research and explorations. These designs are included below. Following the exhibition and conference, the fellows will have the opportunity to contribute to a special peer-reviewed issue of Dialogue. (Dialogue is the ongoing series of fully open-access proceedings of the conferences and national symposia of the AIGA Design Educators Community.)
Experimental Peer-Review Process
We invite you to participate in reviewing the work displayed here and anonymously share your feedback and perspectives. Your contribution will impact the designers' process as they prepare for formal publication. Complete an online review form via the link provided below for each individual poster. You can also download the companion booklet for the exhibition here.