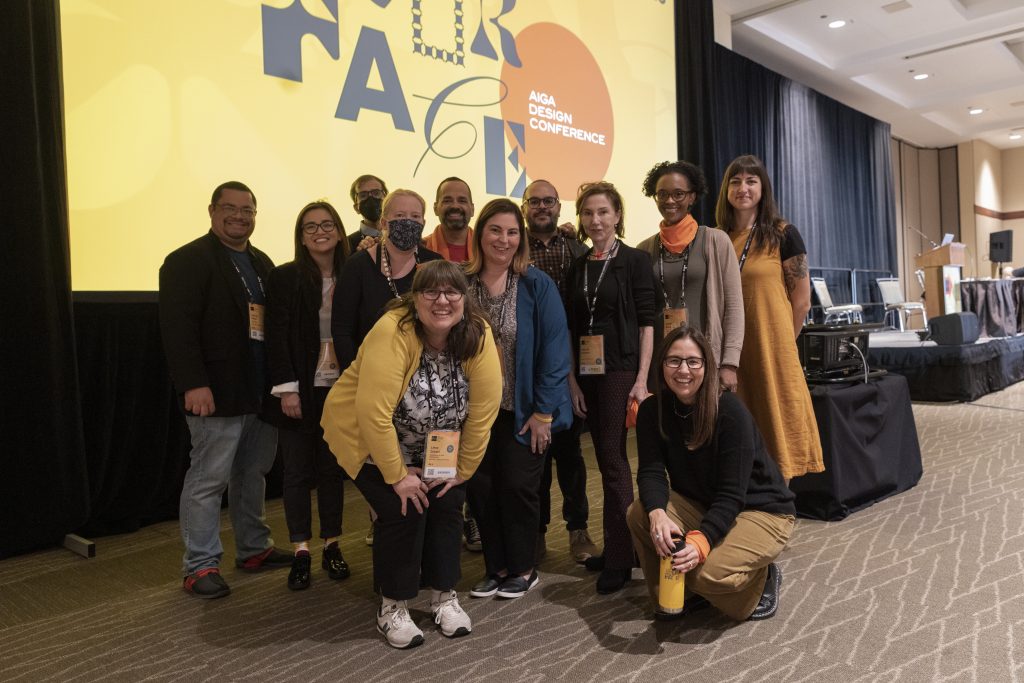 This past year was an exciting and productive one for the AIGA Design Educators Community (DEC).
We connected with and supported our community of design educators throughout the US and beyond with our conversations, programming, and initiatives.
Our steering committee, made up of fifteen dedicated members who come from institutions spread throughout the US, represents many of the myriad types of schools, programs, and different roles that educators engage within design education. This past June the DEC promoted Liese Zahabi (University of New Hampshire) to the role of Co-Chair and welcomed five new members, each of whom brings exciting energy and unique strengths to our group: Patricia Childers (CUNY Citytech), Jarrett Fuller (NC State University), Vinicius Lima (Grand Valley State University), Deana Marzocchi (Johnson & Wales University), and Yvette Shen (The Ohio State University). With this new cohort the DEC aims to more actively engage with design educators in the K-12 space, strengthen design writing and research initiatives, and improve the community management of our online spaces. For nearly two decades the DEC has been serving the design education community and these new members amplify our capacity to serve our community in more holistic ways.
The DEC held its first ever Design + Writing Fellowship, facilitated by Rebecca Tegtmeyer and Liese Zahabi. After a call for participation, 18 design educators worked to discuss, investigate, and articulate the history and future of an often overlooked communication artifact, the Visual Essay. Together, members of this fellowship investigated the origins, influences, and possibilities for this medium, culminating in a set of oversized poster designs that were exhibited at the AIGA National Design Conference, and published on the DEC website. The fellows are currently creating visual essays and other research/writing from this experience that will be published in an issue of Dialogue in 2023.
October's AIGA National Design Conference, held in Seattle, also served as the stage for the return of education-specific in-person programming. The DEC produced SURFACE, a 1-day event that, through a blind-peer review process, gave space to 50 educators to enrich the discipline through papers, workshops, panels, and graduate research. The DEC also collaborated with AIGA's main office in proposing presentations and panelists for the Design and Advocacy Conference held in Washington DC in March, but the conference in Seattle became the perfect opportunity to re-spark our dedicated in-person events. 
This by no way means we are saying good-bye to our online presence. We are committed to producing open and accessible content for the community, and 2022 was another outstanding year of programming. To begin the semester on a high note, we kicked off the year with a social mixer, followed by What's the Big Idea, hosted by Natalie Tyree, giving the community a chance to share strategies for creative thinking and ideation in the classroom. Victor Davila, our virtual events lead, hosted Those Who Can Do AND Teach in April, bringing together design educators who have their own creative practice AND serve as design educators. Mid-year Katie Krcmarik organized an event (moderated alongside Meaghan Dee and Meena Khalili) entitled Contract Negotiations in Academia, resulting in a spirited and insightful conversation with the panelists and the attendees. In September we hosted another social mixer to kick off the start of a new school year, and ended our virtual events series for 2022 in December with a Cookies and Cocktails event. The diverse array of subjects and speakers across these events is a testament to our Virtual Events team and our community members who volunteer their time to serve as speakers, panelists, and attendees. Many of our events are recorded and posted to our YouTube channel.
2022 also saw the DEC bring three significant publications into the world. Early in the year we published the SHIFT Proceedings (as part of the Dialogue series), featuring short and long papers and visual expressions from 17 design educators. The team at Dialectic published two issues this year, Volume 3, Issue 1 in the first part of the year, and Volume 3, Issue 2 near the end. These two issues of Dialectic highlight research, writing, and visual scholarship from 16 design educators and creatives, and serves as one of the few academic journals in the country focused on design education and the academic research being done by design educators.
Last year was also one of thinking about the community's future. Kyuha Shim hosted two listening sessions whose content transformed into the 2022-2023 Design Educators Survey (still ongoing). We are harnessing data from our community to understand the present and better engage with the future of design education. The data from the Survey will be released, open-source, for design educators to use in data visualization courses and for other research and creative endeavors. The DEC is also collaborating with Louise Sandhause, Brockett Horne, Briar Levit, and Lorraine Wild in adding graduate graphic design thesis projects to the People's Graphic Design Archive, in an effort to disseminate these important works more widely within the discipline. Additionally, Lisa Mercer launched the DEC School/Program Directory with hopes to create and share an open list of programs in the US that teach Graphic Design.
The DEC community Slack space continues to serve as a place for design educators to reach out to each other, have conversations about topics that are meaningful to them, share resources, post jobs and events, and hang out. One of the channels in the Slack is for the DEC Book Club, and Ali Place and Liese Zahabi co-hosted a July book club, facilitating two insightful discussions about the book Art and Design Pedagogy in Higher Education (by Susan Orr and Alison Shreeve) after polling the community for titles.
We wrapped up the year with a new fun series, the 10 days of DECember on social media. The steering committee members each took one of 10 days in the first half of the month to share a gift with our community—entries included digital open-source resources, wrapping paper designs, a call for recipes for a DEC cookbook, a Spotify playlist full of wintery themed beats, a list of ways to creatively relax, images of mid-century holiday cards, links to free fonts AND some font jokes, links to great design-focused podcasts, some cool one-page book templates, and more.
With 2023 well underway we continue our commitment to empowering our design community. With the advent of AI Technologies, the ever-changing landscape of professional practice, and a new post-pandemic reality for education, educators, and students, the DEC remains enthusiastic and energetic about the years to come. We thank all of you for your support, and encourage each of you to connect with us to enrich the landscape of design education.
Alberto Rigau and Liese Zahabi, DEC Steering Committee Co-Chairs 2022-2023