After a few years on hiatus, Project M is back! Marc O'Brien, design strategist, design educator, and Project M Advisor writes about his experience as an M'er and how he brings what he has learned into the classroom. Applications are now open for the Montana session in August.
Imagine a group of young creative people, none of them knowing each other nor from the place where they conveyed. Imagine being immersed in a new environment, where every person they meet, every place they visit has a unique story.
Imagine all the intense creative workshops, the Think Wrong process, late nights, dance parties, heartfelt conversations, breakthrough ideas, leadership opportunities, collaboration, perseverance, potlucks with community members, fireworks, costumes, bike rides, karaoke, swimming in rivers…
Imagine this same group of people establishing a bond over this shared experience, all of whom have pushed themselves beyond their comfort zones in order to discover new things within themselves. Imagine these young people being a bit more aware of their existence in the world, and how they as designers, can play a positive role in that world.
That's Project M.
Back in 2009, I made my way to Greensboro, AL to participate in Project M: South 2009. I was out of school for a few months, eagerly looking for my next opportunity to use my creative talents towards creating positive change. Little did I know Project M would change my life.
John Bielenberg, the founder of Project M, introduced me and my fellow M'ers to Thinking Wrong, a creative process he created that encourages people to generate new ideas & design directions that challenge the status-quo. Thinking wrong invites serendipity and randomness to let go of our regular processes to come up with unexpected solutions. It helps with eliminating biases and orthodoxies to conceive the inconceivable. Thinking wrong helps generate many alternatives before locking down on a solution.
During our time in Greensboro, we produced two projects, (blank)LAB and Ashholes. I left M and Alabama inspired, tired and motivated to continue this kind of work.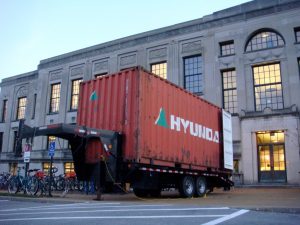 A mobile design studio converted from a 20-foot shipping container.
Since my session, I've been involved with M as a facilitator and advisor, running workshops around the US and a few in Iceland and Germany. At the same time, I started teaching design at the college level. Project M prepared me for the classroom on many fronts.
I've taken a number of lessons learned during my time as an M'er as well as a facilitator into my classroom. Below are just a few of those lessons.
1. Never settle for the first idea
I see students come in with one, maybe two, ideas when asked to develop new designs for a project. They might show me a half-baked sketch or just simply tell me their idea (Ugh!). I then ask them, "Is that all? Where's the rest?" They look at me dumbfounded. I could tell they thought what they showed me was enough, was perfect, was the idea.
One of the first things I was taught in Project M was to never settle for the first idea. Thinking Wrong encourages the act of creating an abundance of ideas. Not just one. Come up with the first, then the second, then third… then the 50th, 100th.
Project M encourages sketches, wireframes, Photoshop mockups, anything that will get the idea across so that everyone involved will "get it". Share with people. Have them riff of them. Combine ideas. Throw some out. Share again. Get feedback. Repeat.
Eventually, M'ers will funnel something down into the best option based on the project's challenge, based on what is needed, based on what people need.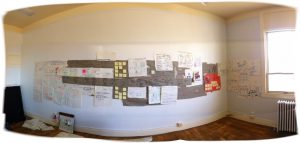 An abundant of ideas after a 1-hour Think Wrong exercise
2. Small bets
We love coming up with big ideas during a Think Wrong exercise. Students in my classroom are no different. They dream big at first, but then how do we actually make it happen with little or no resources? The idea of small bets is perfect for this. It's a process of breaking down big challenges or unknowns into smaller tasks ("small bets") that can be achieved in short timeframes.
This is important as each M session is just a few weeks. Crazy, big ideas are abundant and we don't try and let constraints or outside factors keep us from implementing them. Teaching this approach in the classroom can keep the "big idea" students have around as much as possible even if there is no budget or little resources. Students often get frustrated when they have to let go and compromise due to real-world constraints. This is where small bets come in.
3. The importance of self-Initiative projects
The majority of classroom projects have everything laid out in a project brief—what is needed, expected deliverables, etc. Students check off a list of design collateral they need to do in order to meet the requirements for the project. Often times, this can stifle creativity and the potential of the project.
What comes out of Project M are not John's projects nor are they mine, nor the other M facilitators or advisors. The projects belong to the M'ers of that session (or perhaps to the organizations we've partnered up with)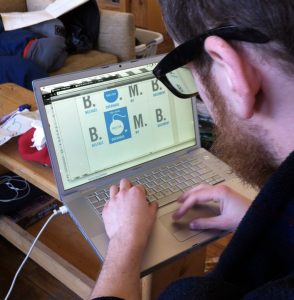 Designing handouts used to promote a crowdfunding campaign in Belfast, ME
We might encourage the M'ers to consider certain opportunities during a session, but it's up to them to make things happen, to create the project they want to create. It's up to them to reach the bar that's set, to run with an idea set forth and see where it goes, how far it goes. When students see an opportunity placed in front of them, some take it while others don't. This says a lot about someone and is a very important soft skill I find in the professional environment all the time.
4. Community engagement
Project M is all about community. We partner with local non-profits and other organizations on the ground to help them address a certain challenge or to come up with campaigns that highlight their existing efforts. M'ers go and meet community members, listening to their concerns, hopes, and ideas. They get inspired by the places they visit. They learn what life is like through the perspective of someone they might not normally interact with. From there, they create something of value, something that can contribute towards creating a positive impact within those communities. This encourages students to take themselves out of the project and put those they are designing for first.
Project M was founded on the idea that design can be a great tool to create positive change in the world; the world of an individual's life, the world of a small rural town, the world on the global level. Bringing these ideas and approaches into the classroom will no doubt prepare the next wave of design leaders so that they can contribute towards creating a more positive, abundant, and inclusive world.
PROJECT M 2019
Project M is now accepting applications for its Montana session in August.
Join Project M as we traverse the wilderness of the Yellowstone ecosystem in Montana. Spend two weeks in various locations including Anderson Ranch. We'll work with The Common Ground Project, the Artemis Institute and others as we raise awareness around the issues taking shape in this area as well as highlighting its beauty and importance.
At the end of the session, the solutions developed will be presented to people representing various organizations working in the Yellowstone ecosystem.
We'll be roughing it this M session, at times backpacking in the wilderness and sleeping under the stars in tents and teepees. Are you up for the challenge?
Details:
August 10–24
Working in the Yellowstone ecosystem
We will backpack and camp throughout the two weeks. Bring appropriate gear. Details to follow.
Important Dates:
Applications Due: May 15
Acceptance Notifications: May 20
Half payment due: June 15
Full payment due by July 15
Apply now: http://www.projectmlab.com
BIO: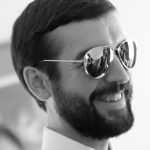 Marc O'Brien is a design strategist, designer, and creative facilitator, who has been working with people who give a damn since 2009. He is the co-founder of The Determined, a creative studio for a climate-resilient world. Marc also teaches at California College of the Arts, teaching Graphic Design undergrads as well as the Interactive Design grad students.