Design academics are arguably the most daunting audience to design for: a group supremely versed in and opinionated about the discipline's methodology and history. Professionals may seem a greater challenge but many of us have a background in practice and continue to be active in the field. Add on top the specific task: the inaugural issue of the DEC's academic journal Dialectic (and its associated web version Dialogue).
For this task, the Dialectic editorial board has commissioned Laura Rossi Garcia, a recent graduate of the Graphic Design MFA program at Vermont College of Fine Arts. In its selection process, the Board sought to privilege and foster an up-and-coming designer that has already exhibited a particular interest and capacity in research and writing. Always of concern is a fluent formal sensibility for the "erudite" product that was sought.
Rossi's path to graphic design has gone through different pursuits. Born and raised in Puerto Rico, Rossi moved to the U.S. for her final years of high school to focus on studying classical ballet at arts boarding school. She then attended Goucher College in Baltimore to study Art History. This led to a position as the Curatorial Assistant at the Museo de Arte de Ponce in Puerto Rico. Throughout, design was not on her radar.
"I really had no understanding of what Graphic Design was/is/could be," says Rossi, "but among many things, part of my job at the museum included liaising with the museum's Graphic Designer. After two years, I realized that working with the designer on upcoming publications and exhibition identities was my favorite part of the job…in essence, I realized that I really wanted his job."
This led to a decision to graduate study in Graphic Design in the low residency program at the Vermont College of Fine Arts. It was here that she realized a fascination and facility in typography and type design.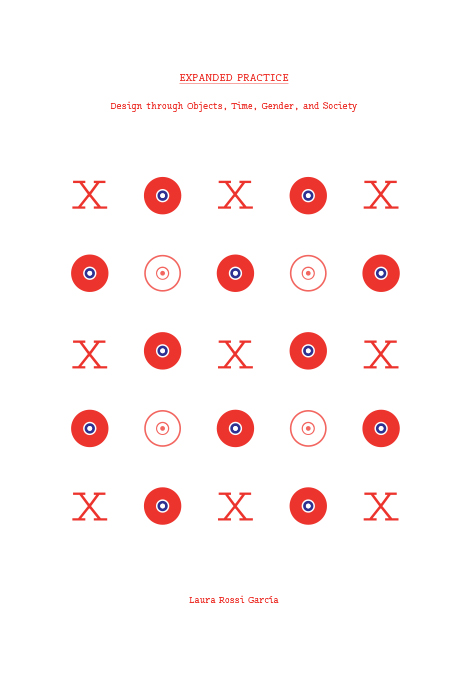 Rossi's VCFA thesis project contained two projects linked by an overarching interest in the intersections of design, typography, culture, history, theory, criticism, anthropology, and feminism. "I am particularly interested in the role that design plays in the larger system of interdependencies that comprises contemporary culture: why we do the things we do, why we think the way we think, and how we came to be the way we are. I think that it is necessary to look at history in order to speculate about our present and future."
The first part of her thesis considered the typewriter's history as mechanism and vehicle for typography. It was also considered as an active agent in the development of women's labor in the U.S., initiating them into the corporate world. Rossi follows the typewriter from a blind countess in early 19th century Italy, speed-typing competitions, advertising, the development of monospaced fonts, ideas about form and ornament, industrial giants Apple and Olivetti.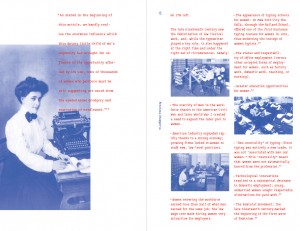 Alongside this research, Rossi was developing Fritz, a monospaced typeface named for World Speed Typing Champion Rose Louisa Fritz. Its swashes celebrated formal aspects irrevocably deemed "feminine."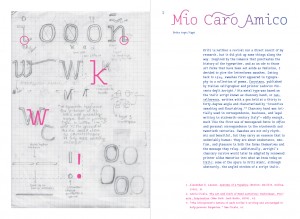 In her second project, Rossi developed Irene, a typeface inspired by Irene Delano, a Puerto Rican designer, illustrator and educator working in the mid-20th century. Delano was the first director of the Graphic Arts Department in DIVEDCO, a radical community education program established in the 1940s by the territory's governor.
During her tenure, Delano was significant in art and design education on the island, initiating a dialogue that encouraged its first contemporary art movement in the 1950s. In addition to maintaining a prolific design practice with her husband, she also introduced screen printing to the local visual vocabulary.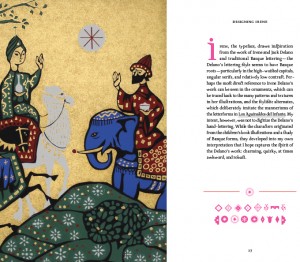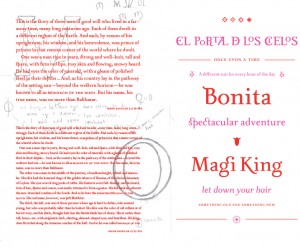 The depth of her critical and formal investigations made Rossi a standout in her program. Ian Lynam, co-chair of the VCFA Graphic Design program, says of her, "Laura is exceedingly gifted as a writer, critic, type designer and editorial designer. She has the gift/curse of relentless curiosity, experimentation and iteration. It was an absolute pleasure to work with her during her graduate studies at VCFA, and as I told her in person at our graduation ceremony, she walked off the stage as a colleague."
It is this commitment to academic investigation combined with a refined aesthetic sensibility that Rossi brings to Dialectic. Given the "slightly terrifying" commission, she "began by researching dialectic theory.
"There are strong parallels between dialectic theory, education, and criticism. In essence, the most basic definition of dialectic theory (at least Hegel's version) is that to every thesis there is an antithesis. The collision/contradiction of these two results in synthesis—which is in turn, a new thesis. It is the process for arriving at or discovering new truths. In terms of the design, I used my research as a point of departure and a way to define certain characteristics that I hope the final product embodies: the tradition of scholarship, the inquiring nature of the dialectic, and the multiplicity of design education."
Rossi also draws inspiration from her reading, lately "a lot of history and criticism. I feel that I still have so much to catch up on when it comes to design history. I am also constantly learning from my colleagues and classmates. There are many designers and writers I admire! There is a lot of great work out there but always drawn to and inspired by the work of Sybille Hagmann, Denise Gonzales-Crisp, and Gail Swanlund, to name a few."
Along with her Dialectic work, Rossi hopes to continue writing, self-publishing, and designing type. "I am working on developing the typefaces I've created over the past couple of years with the intention of starting a type foundry. I am interested in how design fits into, affects, and reacts to human culture."