During the AIGA Head, Heart, Hand Design conference Design Educator Steering Committee member Lara McCormick presented a Handlettering 101 workshop for design educators. Here are a few of the highlights and images of participant work. Resources from the workshop are posted at playingwithtype.com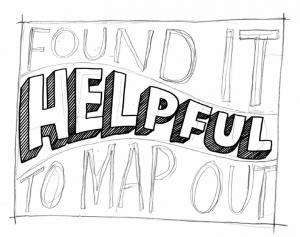 During the workshop several approaches to lettering were introduced. Using a framework to sketch out your composition, piecing together compositions with tape, playing with combinations of different styles, using color to ensure cohesion, and more. Methods for digitizing were also covered.
Be sure to have the proper materials. Use grid paper to first draw your letterforms in pencil. Trace over your work using vellum paper, and use a micron and/or sharpie to darken and fill. For reference, use existing typefaces. Always keep in mind the anatomy of a typeface; knowing this informs your work  and insures a consistency between letterforms. Remember, every piece of type you've ever looked at informs your practice.
After the presentation, workshop participants went to town and did their own handlettering compositions using the methods introduced. A good time was had by all!