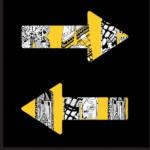 Creativity is no longer the sole territory of a separate creative class. Artists and designers now face an activated public. Today's users approach art and design with a growing expectation that they participate in the generation of content and the shaping of their own experiences. The burgeoning DIY, Open Source and Free Culture movements reflect the growing values for participation, openness, and inclusion.
What does this shift toward participation mean to art and design? Last weekend, AIGA Design Educator Community took a stab at the answer. The resulting panel, entitled Collaboration, Interaction, Participation: What Does the Rise of Participatory Culture Mean for Art and Design Education and Practice?, took place at this year's College Art Association Conference in New York City.
Chairs: Helen Armstrong, Miami University; Lee Vander Kooi,Indiana University-Purdue University Indianapolis | Panelists: Zvezdana Stojmirovic, Maryland Institute College of Art; Nathan Davis, Montana State University; Richard Elaver, Appalachian State University
(to read more about this topic, check out Participate: Designing with User-Generated Content by Helen Armstrong and Zvezdana Stojmirovic or visit the book's companion website: participatorydesign.net )
Whether you attended the panel or not, check out the companion zine, which includes talking points from each presentation: CAA_DEC_Zine_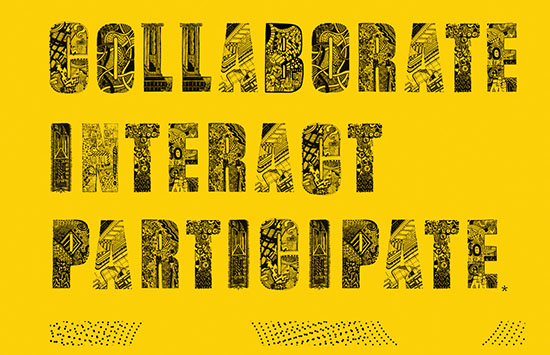 ===============
As a followup to the event, the Design Educators Community ask panelists to answer some key questions about participatory design.
Q: Why experiment with participatory art and design right now?
Helen Armstrong: Participation itself is not a new concept. Early Avant-garde movements like Dadism and Constructivism experimented with mass spectacle. In the 1960s participatory movements popped up all over: Situationism, Happenings, and Fluxus.[1] But participation has now moved from the margins to the center. Mainstream culture has embraced it.
Technology drives this on many levels. Web apps, like Flickr, Facebook, Amazon, Google rankings, YouTube, and Vimeo, condition the public to approach a design with the expectation that they will have to fill in the blanks. At the same time, technology places the means of production and distribution directly into these same users' hands. Using online resources like Threadless, Etsy, Lulu, Ponoco, and Blurb, anyone can design, manufacture and distribute their own publications and products.
Two key cultural movements have contributed to this mainstreaming of participation: the Open Source movement and the Copyleft movement.  The Open Source movement advocates free access to the source code of computer programs. Activist Richard Stallman launched the Open Source movement in 1987. An open source mentality led to mass tinkering—experiments with mass making. Programmers thus led the way in developing processes of aggregate making that are now influencing the structure of co-creative projects.
In the 20th century traditional copyrights restricted such knowledge inspiring the Copyleft movement. The struggle by Copyleft to promote the free circulation of information continues today through advocates like Harvard law professor Lawrence Lessig who founded the nonprofit organization Creative Commons. This organization provides flexible copyrights that allow creators to waive many restrictions while maintaining some right to their work. Without an open source structure that enables mass-making and a flexible copyright system that legalizes the free circulation of content, participation could not survive.
Design is facing the perfect storm of participatory forces. Or, to rephrase, the perfect opportunity for shifting from creators of finished artifacts to designers of flexible frameworks.
1. For a discussion of Dadaism and Soviet mass spectacle, see Claire Bishop, ed., Participation, Documents of Contemporary Art (Cambridge, Mass.: MIT Press; London: Whitechapel, 2006).
Q: How does participatory design affect your teaching?
Zvezdana Stojmirovic: The traditional classroom can be seen as the pristine modernist cube endowed with an undisputed hierarchy: The teacher as the bearer of knowledge, and the students as blank slates. Participatory design turns this on its head. The classroom of today is a porous space, infiltrated by the digital tools at our fingertips. Rapid changes in technology call for rapid responses. The classroom becomes a space of sharing, where it is sometimes the students who teach me the latest tricks. Together with my colleagues, I seek to redefine when, where and how design teaching happens. I try to turn the "distractions" — social media, blogs — into teaching tools with assignments that address new priorities while staying rooted in the basics.
Q. How do you know when participatory processes are the right fit for a project?
Nathan Davis: Much of this depends on the client and communication goals. Speaking primarily from the communication and branding perspective, it is the kind of process that requires strong buy in from clients and a willingness to take some risks. Ultimately inviting participation from a community is about opening up the design process to an element of the unknown and unpredictable. The designer's role as an editor becomes crucial in taking the results of the participation as raw material and turning it into a product that is on message and adds value to the project. They also must have an open mind and an eye for the "happy accidents" that are waiting to be capitalized on.
From a more forward thinking perspective one could ask when is it not relevant?
Some projects just don't accommodate for the time involved with inviting community contribution in a meaningful way. But I think it would be in design's best interest to shift from seeing community participation as an add on or option, and begin to see it as a necessity. At the very least in the design research aspect of a project, participatory design processes can easily be seen as essential.
It is also worth emphasizing that participation need not be the product. If we continue to understand it as part of a process then we increase the likelihood that it will add value to design practices and to the client's briefs. As a process it provides inspiration, insight, and opportunity that might not have been found prevously. It also gives our process a sense of connectedness to the audience. A designer who has a stronger understanding of the intended audience tends to design in a more empathetic manner. The participatory process shifts the focus from the designer and focuses more intently on the public at the center of the project. This will almost always yield a more benevolent and sustainable model for creative work. It also provides a great way to forge a more authentic connection between brand stakeholders and audiences. Instead of feigning authenticity –the main currency in today's brand market– over time it might actually help cultivate a more authentic product.
Q. How can I help my students to create design projects that incorporate more input from their users?
 Richard Elaver: Unfortunately, the first challenge that comes to mind is TIME.  Usually, we are so pressed in a class to complete a project, that there doesn't seem to be time to then take the project further with user input.  In Product design, this cycle can take many months, or even years, in order to develop a prototype, get feedback, refine the design and prototype, etc.
However, there must be ways to bring in users/participants earlier in the program.  And we do this with research in the beginning phases of a project.  A methodology that comes to mind is to make quick study models, or sketch-models, and then get those in front of users.  We tend to critique them in class, but not require outside input from end users.  Creating this as a requirement on a project would get students more in-touch with their target audience.
Another option is to assign a participatory design project like the ones I showed in my talk: custom shoe design (Nike), interactive custom ring design (from Nervous System), etc.  Students wouldn't likely have time in a semester to develop all of the software interface, but they could develop a product concept and map out the parameters of customization.  This could be a fun project.
Have you experimented with participatory art or design projects? Let us know.