Since the early part of the 1900s, the women of Gee's Bend, Alabama have narrated and re-written their lives through the creation of quilts. Gee's Bend (also known as Boykin) is a small, rural, predominantly African-American community in Wilcox County, Alabama. The town, which sits enclosed on three sides by the Alabama River, takes its name from a plantation owner named Joseph Gee, who settled the town and built his cotton plantation on the land in the early 1800s. With him, he brought a group of eighteen enslaved African Americans. Today, almost all of Gee's Bend residents are descendants of formerly enslaved people from Gee's plantation.
After Emancipation, formerly enslaved people from the plantation were given land in the area. Already isolated and impoverished, conditions in Gee's Bend became even worse in the 1930s when a merchant who had given credit to many of the community members passed away. Eager to collect on the debts, his family broke into homes and forcibly took livestock, seeds, tools, and other possessions, leaving most people in the area with nothing. At this point, with few resources, the community was considered the poorest community in the United States.
It was in this context that women from Gee's Bend began a long and lasting quilting tradition. Quilts were made first and foremost out of necessity. The women needed to keep themselves and their families warm, but had little access to material. To solve this they began recycling scraps of fabric from worn clothing and feed sacks. The results were bold both in color and in pattern. While some women made quilts that followed more "traditional" and ornate quilting patterns, many others began to deviate and create their own designs. In place of the convention of small pieces of fabric pieced together with small stitches, the women of Gee's Bend used larger, asymmetric shapes and more visible stitching. Denim and feed sacks were placed in contrast and partnership with floral and corduroy. Rather than follow a pattern, many women created the designs as they went along, creating what many recent critics and art historians have dubbed an "improvisational" style of quilting. However, it's important to note that this did not mean the women lacked guiding vision.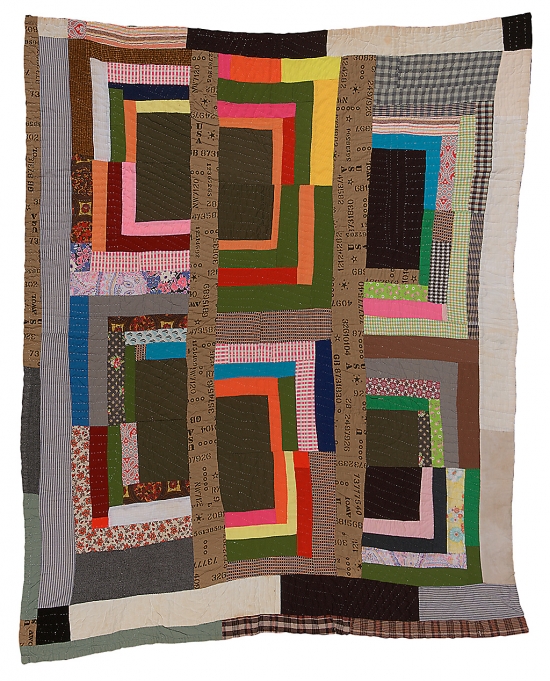 The quilting tradition of Gee's Bend has been passed down from generation to generation, not only from mother to daughter, but also between community members. In an interview, Mary Lee Bendolph remembered how she would take inspiration from other Gee's Bend women's quilts: "I see other people's quilts like when the spring of the year comes. The women would hang their quilts out, and we would just go from house to house looking at the people's quilts. And I would take a pattern from looking at their quilt and try to make one like it." This practice of artistic dialogue through observation and modification extended inside their homes as well, where women would showcase their quilts on beds and couches for company to see, and comment on quilts they found particularly beautiful.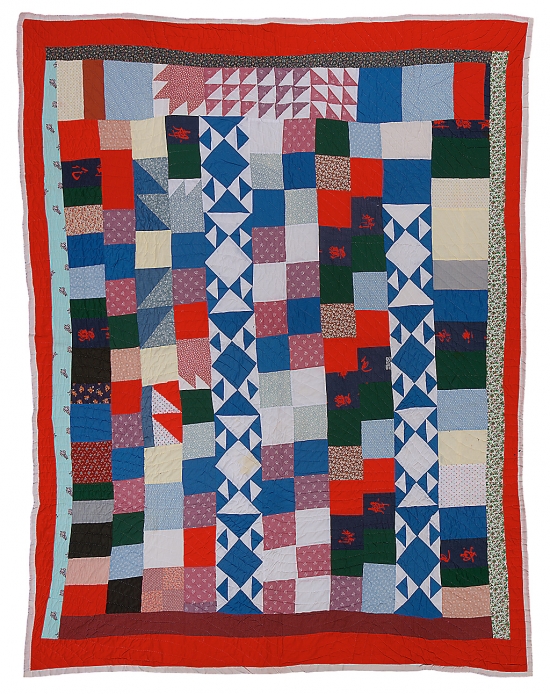 In "But a quilt is more: Recontextualizing the Discourse(s) of the Gee's Bend Quilts," Vanessa Kraemer Sohan rightly asks us to see the quilts as produced outside and within the boundaries of other quilting traditions, particularly other African American quilting traditions. The Gee's Bend tradition is also ever-evolving—growing from multiple traditions, but always re-made and re-formed by the individuals of each generation, as well as their respective circumstances.
What is significant about these quilts, in addition to their aesthetic power, is the way in which they reflect and have transformed the lives of the women who create them. They archive life.
In 1942 Missouri Pettway created a quilt out of her late husband's clothing. At a distance, the quilt consists of an array of bold, irregular rectangles in muted grays, blues, reds, and whites. Small diagonal stitches hold the pieces together, creating a subtle counter pattern. But upon closer examination, you see rust stains and dirt, bleeding dye, and sun-bleached patches. Pettway's daughter remembered the quilt saying, "Mama say, 'I going to take his work clothes, shape them into a quilt to remember him, and cover up under it for love.' She take his old pants legs and shirttails, take all the clothes he had, just enough to make that quilt…" The viewer can imagine the moments that might lead to each discoloration and mark. In addition to a stunning composition of abstract aesthetic relationship between colors and shapes, this quilt archives a narrative of her and her husband's shared life together.
A major shift in the economic and social fabric of Gee's Bend occurred during the Civil Rights movement with the formation of the Freedom Quilting Bee (FQB), cooperative of poor black craftswomen in the Alabama Black Belt. The women of Gee's Bend were brought in to create work for Sears. This provided the women with materials and more access to distribution of their work. It also brought with it expectation of more streamlined patterns. The ways in which the women resisted or accommodated the FQB point to the multiple and ever-changing circumstances that effect tradition.
Circumstances for the women and recognition for their work changed dramatically again in 1998 when art historian and curator, William Arnett, ran across an image of a Gee's Bend woman named Annie Mae Young in a book on quilts. The image depicted Young next to a pile of logs over which was thrown a quilt made up of denim patches with a red, yellow and brown center. Arnett was enamored and headed to Wilcox County to find Young and her quilt. He was successful in his venture, and purchased the quilt from Young for $2000 (the average going rate for her quilts at that time was between five and fifteen dollars). Thus began his relationship with the women of Gee's Bend, and the emergence of the women's work in a "high" art arena.
After his initial visit, Arnett, who specialized in "vernacular" African-American art, went on to purchase an estimated 700 quilts over the years from the women of Gee's Bend. With these, he organized exhibitions at cultural institutions throughout the country, including the Milwaukee Art Museum, the Museum of Fine Arts in Boston, and an extremely popular exhibition at the Whitney.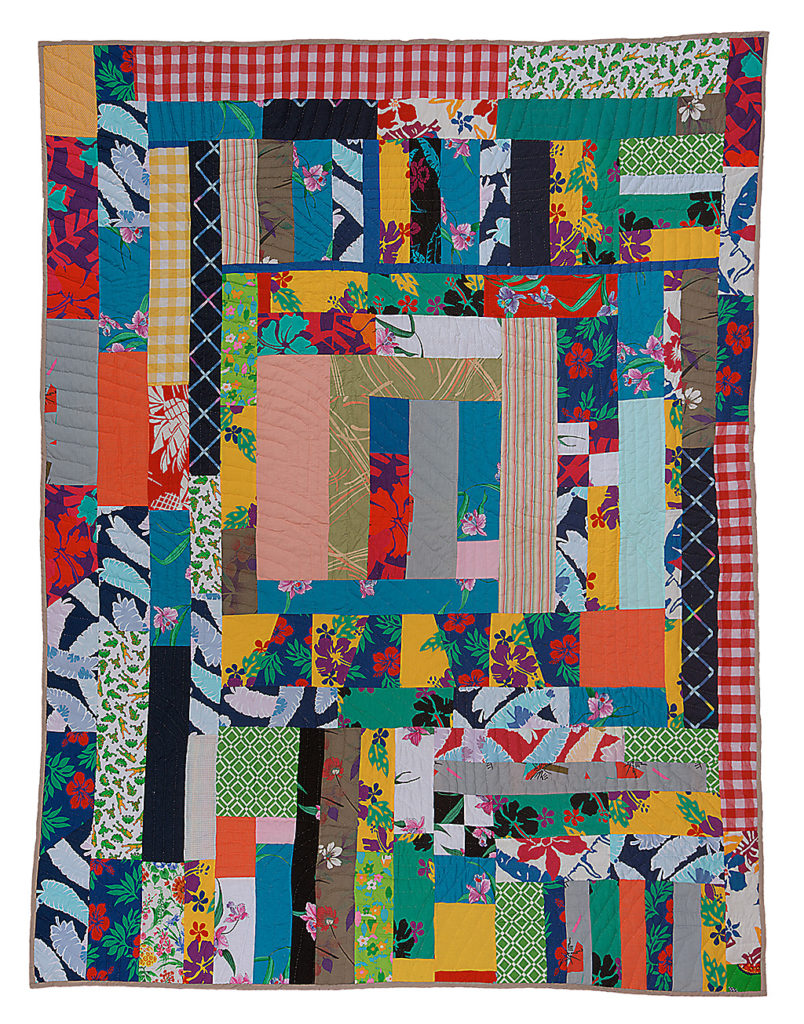 These exhibitions situated Mary Lee Bendolph, Annie Mae Young, Loretta Pettway, and the other Gee's Bend women as discrete counterparts to European modernist artists like Henri Matisse and Paul Klee who also used bold color and abstraction in their work. Once in a museum context, their work was re-evaluated, based on this new connection with "high" art and relation to White male European modernists. The exhibitions also initiated conversations about the distinction between "art" and "craft." As curator Alvia Wardlaw said, "The quilts reflect the history of [Gee's Bend] and of this country and ask all of us to consider genius…where does it reside?" These popular exhibitions brought much-deserved attention to the quilts and the women who created them. Reviewers, art historians, and visitors praised the "improvisational" style of the women's work, the bold color choices, and the way they deviated from "traditional" quilting while simultaneously creating a new aesthetic language and genre of quilting all their own.
But these exhibitions, and the story of Gee's Bend quilters also illuminate the fine (and sometimes not so fine) line between exposure and exploitation. The women's work was given a broad stage and has been celebrated throughout the United States and beyond as works of genius, thanks in large part to Arnett. However, the financial profits gleaned from this recognition have not always filtered back to the women, or the community of Gee's Bend. Images of the quilts have been reproduced on coffee mugs and calendars, scarves and refrigerator magnets.
The womens' reactions to Arnett and others profiting from their work was mixed. While some women appreciated the recognition and the purchase of their work at far above the previous going rate, others were upset that their work was being profited on without their consent. Loretta Pettway and Annie Mae Young both filed lawsuits against Arnett on the grounds that they had been cheated out of thousands of dollars in proceeds from their work and copyrights.
After winning various copyright disputes, an organization called X gained the rights to the work, ensuring that the Gee's Bend quilters receive proper compensation for the reproduction of their work. In addition to being aesthetically powerful, these quilts and the myriad stories behind them are important because they ask us to reconsider our aesthetic value system. More than that, they serve as maps of an American history that is often un-narrated.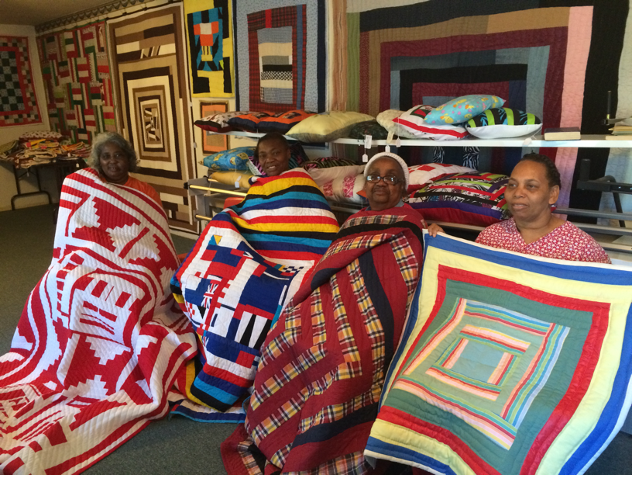 These quilts were a way in which women in the community both reflected and also transformed their material and social circumstances. Today, the women of Gee's Bend continue to elaborate on their storied tradition. About 40 women from the community are part of the "Gee's Bend Quilting Collective" which is managed by Mary Ann Pettway and housed in a small building in town. Here, women continue to produce and sell quilts often for up do $1000 apiece. The Quilting Collective also holds annual quilting retreats where participants can learn to quilt or practice their quilting skills with the guidance of Mary Ann Pettway and China Pettway.
Considering the example of these previously unknown innovators and artistic geniuses, we as educators in the design community can take a lesson from the women of Gee's Bend and consider:
How does the dominant Euro-centric, patriarchal framework limit the ways we conceive of genius and creativity?
What happens when we include the richness of context, history, and community into our design aesthetic?
How can we expand our love of the visual arts to connect to more inclusive stories and a broader vision of humanity?
How can we enrich and ground our aesthetic vision through connection to our historical selves and acknowledging the unseen histories that have shaped our society and culture?
Images courtesy of SoulsGrownDeep.org
Links
https://www.soulsgrowndeep.org/gees-bend-quiltmakers
https://www.arts.gov/art-works/2015/quilts-gees-bend-slideshow
https://www.smithsonianmag.com/arts-culture/fabric-of-their-lives-132757004/
https://www.pbs.org/video/alabama-public-television-documentaries-quiltmakers-of-gees-bend/
www.nytimes.com/2018/11/13/opinion/quilts-while-i-yet-live.html
https://www.thenation.com/article/archive/gees-bend-quilt-alabama/
https://www.geesbendquiltingretreats.com/gees-bend-quilting-collective.html
www.nytimes.com/2007/07/29/us/29quilt.html
https://search.proquest.com/docview/217826677?accountid=14512
https://www.jstor.org/stable/4137873?pq-origsite=summon&seq=1#metadata_info_tab_contents
www.diaryofaquilter.com/2020/06/the-quilts-and-quilters-of-gees-bend.html
https://www.soulsgrowndeep.org/gees-bend-quiltmakers
https://www.soulsgrowndeep.org/artist/annie-mae-young/work/work-clothes-quilt-center-medallion-strips
https://www.soulsgrowndeep.org/artist/missouri-pettway/work/blocks-and-strips-work-clothes-quilt
https://www.thenation.com/article/archive/gees-bend-quilt-alabama/
https://thesewingmachineproject.org/wp-content/uploads/2014/11/IMG_5618.jpg
https://www.arts.gov/art-works/2015/quilts-gees-bend-slideshow
https://www.soulsgrowndeep.org/artist/lucy-p-pettway
https://www.soulsgrowndeep.org/artist/lucy-t-pettway/work/snowball-quiltmakers-name