Design Recharge!
November 21, 2012 / By AIGA EDUCATOR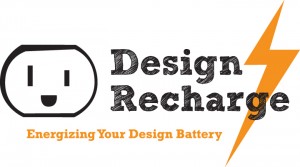 Design Recharge is devoted to inspiring, motivating, and educating both established and new designers. It's a community where designers can interact weekly about topics relevant to design and the design business, without leaving our offices and taking hours out of our workday. Design Recharge is a weekly web show that is open to the public and airs live on Wednesdays at 2:30pm ET via the Spreecast platform. All the previously recorded episodes can be found at Design Recharge!
Design Recharge is the brainchild of Diane Gibbs what started the weekly Spreecast in June, 2012. She has been a graphic designer for over 15 years, and has been teaching graphic design at the college level for over 10 years. She says, "Something I struggle with as a designer is staying inspired and connected. Designers want to share stories, experiences, and connect with other designers. When we do this, we capture that motivation and inspiration we need to continue to create and design at our highest level."
Design Recharge was born when Diane yearned for additional opportunities to 'recharge' with fellow designers and educators. Diane recalls, "When I go to conferences, I interact with other designers and get that recharging of my design battery.  After attending, I am always invigorated. I had always thought how great it would be to access the design community on a more regular basis. That desire is the motivation behind Design Recharge."
Design Recharge consists of live interviews with other designers, artists, and business leaders. Various topics related to design, business, creativity, and growth are discussed each week. The community of participants has grown each week, averaging 300 unique views of each web show in the first seven days. Designers have commented that it is a great place to learn new ideas, discuss hot topics, and get questions answered.
Check it out! http://www.spreecast.com/channels/design-recharge-channel