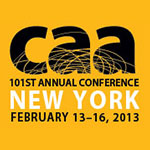 Thursday, February 14, 2013
Collaboration, Interaction, Participation: What Does the Rise of Participatory Culture Mean for Art and Design Education and Practice?
CAA (College Arts Association) Conference
Beekman Parlor, 2nd Floor
Hilton, New York
Chairs: Helen Armstrong, Miami University; Lee Vander Kooi, Indiana University-Purdue University Indianapolis | Panelists:  Zvezdana Stojmirovic, Maryland Institute College of Art; Nathan Davis, Montana State University; Richard Elaver, Appalachian State University
Creativity is no longer the sole territory of a separate creative class. Artists and designers now face an activated public. Today's users approach art and design with a growing expectation that they participate in the generation of content and the shaping of their own experiences. The burgeoning DIY, Open Source and Free Culture movements reflect the growing values for participation, openness, and inclusion.
What does this shift toward participation mean to art and design? What does it mean to the classroom? Are there new competencies that art and design education need to address? Should artists and designers act as expert leaders of this widespread creative impulse or should they stand apart, reinforcing their own credentials? What place do dialogical and relational aesthetic models have in the discussion? If the artist/designer, audience divide breaks down, what new modes of collaboration emerge? How do we prepare students for a climate in which feedback is instantaneous and projects often developed and propagated not just by the artists and designers, but also by the people themselves?
In sum, how will such a fundamental shift toward bottom-up creation affect our society, our disciplines and our classrooms?
Panelist Discussions:
Competencies for Collaboration: Teaching, Learning, and Doing Collaborative and Community-Based Work : Lee Vander Kooi, Indiana University-Purdue University Indianapolis
Design as Conversation: Helen Armstrong, Miami University
Cocreation vs. Collaboration: Similarities and Differences in Ways of Working Together:  Zvezdana Stojmirovic, Maryland Institute College of Art
Designer as Editor: Creating a Garden from the Jungle of User Generated Content: Nathan Davis, Montana State University
Mass Customization and Product Individualization: Richard Elaver, Appalachian State University